So you want to make a scoop like Gloria Mackenzie, Mavis Wanczyk or Marie Holmes in the photo below. You dream of a new luxury car and a tremendous mansion with your name on it. You want to travel first class to the best countries in the world. But you have only $ 10 in your pocket. How to get the best use of it? You can buy a lottery ticket online. Here we have a thorough guide full of ultimate advice and life hacks on how to buy lotto tickets from the United States, Australia and Europe. Let's get started from a very beginning.
Step 1. Register to buy your first lottery ticket
Finally, you got on the site that specializes in selling lottery tickets online. It seems unfamiliar and incomprehensible. Don't worry! This feeling will pass in a few minutes and you will feel like a duck to water. First, register. It's FREE and easy. Just click the "Register" button and enter your name, then your email and password.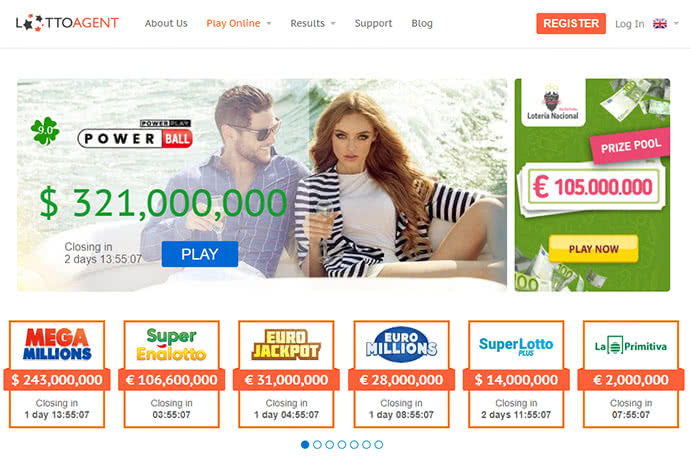 Tip 1: Give your true and real name when it comes to registration. Your identity will be checked before paying out the prize. This is done for security reasons.
Tip 2: Confirm your account as soon as possible.
Tip 3: How old to buy lottery tickets? 18+!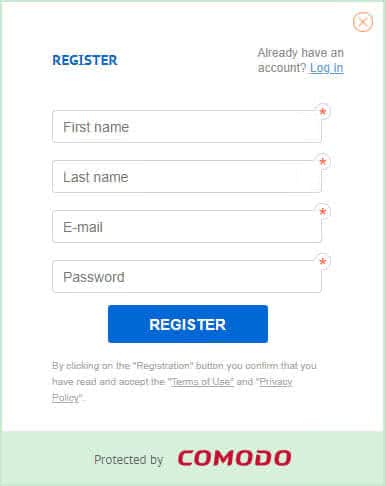 Step 2. Choose the number of lines and pick your lucky numbers
Log in and select a lottery from a sidebar of your lottery agent. You will find a lot of lotteries on the site, so that the overchoice can make you dizzy. Make a decision based on the Jackpot amounts, the number of prize divisions and the complexity of game rules. Pay attention to the smart rating: the best of the best lotteries have the better score (7, 8, 9, 10 points). Here are some tips to buy lottery tickets: Powerball, Oz Lotto, SuperEnalotto, etc.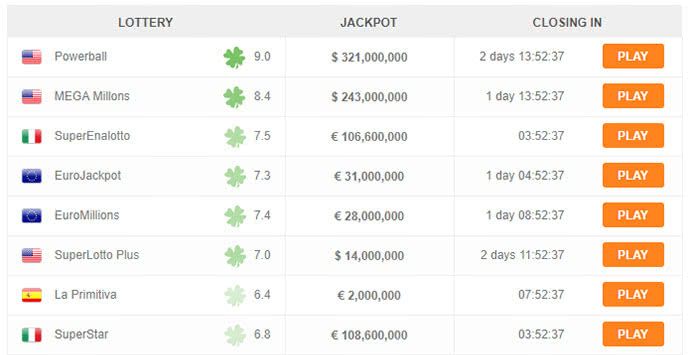 Check the number of prize divisions. It's really nice to win the first prize, but it's much better when you're charged $ 7.000 for, let's say, 4 matched balls or a couple of massive second-tier prizes extra. Pick 3 numbers; get $ 20 dollars, etc. EuroMillions and EuroJackpot say: "Don't forget about us if you're wise enough!"
Look for inexpensive lotteries if you want to save money. The amount of money you spend on lottery tickets must be reasonable.
Powerball Australia ~$1.94 per line
Bonoloto ~$2.08 per line
SuperLotto Plus ~ $2.99 per line
Play the easiest lotteries with a nice opportunity to make a scoop, such as Oz Lotto: just match 6 numbers out of 45.
Powerball, MEGA Millions and SuperEnalotto offer the most massive Jackpots in the world. These lotteries are tough nuts for big winners who know how to play big.
Don't miss monthly draws of Loteria Nacional. This is the most extraordinary game in the world. Lottery fans usually long for its raffles like shopaholics long for Black Friday to spend their money on desired goods!
Once you have picked the lottery draw press on its name. It will take you to the page where you can pick your lucky numbers.
Step 3. Fill in a lottery ticket
It's time you filled out a lottery ticket. First, decide on the number of lines in it.
Then, mark your lucky numbers in the ticket. You can pick the combination of numbers in two ways: you can do it by yourself or use the "Easy-Pick" option in order the system picks numbers for you automatically. Short tips next to the ticket form will help you fill out the ticket correctly. If you take a false step, the site will notify you about it. The interface is user-friendly, so that it's not easy to get confused!
Tip: Feel free to benefit from the "Multiplier" option where can be applicable, which will make any of your prizes (except for the Jackpot) many times bigger.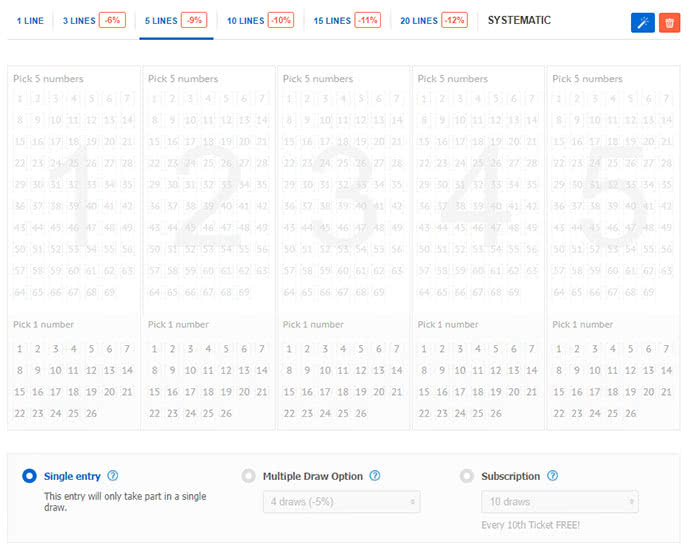 There are some more options to play:
The "Multiple Draw" option. If you don't want to miss any single draw, select this smart option. The system will withdraw money for a few subsequent draws at once. After that, you will be automatically assigned to 4, 10 or 25 upcoming draws.
The "Subscription" option. This option is very similar to the previous one. The only difference is that the funds will be withdrawn from your card or an e-wallet account before each draw. Using this option, you will be subscribed to 10, 25, 52 or even 104 subsequent draws.
The dynamic ticket form. Based on the popular winning strategy, it makes it possible to pick the increased portion of numbers in a single entry. This option is able to significantly increase your winning odds.
After you're through with lines, numbers and options you can finish by pressing the "Confirm".
Step 4. Confirm the order
After you confirm your order, you will see a good bunch of payment options that are available for your country. They are debit/credit cards, e-wallets and many more. Pick the payment option that suits you and follow a short guide:
Visa
MasterCard
Unionpay
JCB
Skrill
Sofort
Trustly
POLi
GiroPay
Paysafecard
EntroPay
iDeal
Nordea
ESP (Netpay)
Neteller
CartaSi
PostePay
Dankort
ePay.bg
Przelewy24
…etc.
It's easier to pick one of the e-wallets to pay for your order. To do that, just follow the instructions and you will avoid any difficulty.
When you pay with a debit/credit card, you need to insert your payment data including the expiration date, the card number and the CVV-code which is located on the back side of the card and consists of 3-4 digits. Don't worry, it's safe and secure.
Confirmation and Scanned Copies
After each purchase you make, you will be sent free e-mail order confirmations. These are messages which include an order confirmation and draw details. Moreover, the order information will be stored in your personal account.
In addition to this, you will receive scanned copies of the tickets purchased before each draw. You can find a scanned copy of your ticket in your personal account in the "My Entries" section.
Check the Results
After the draw is over, you can check the results as follows:
Check your email as you've been sent a letter with the latest draw results.
Go to the "Results" section and find the lottery you played in the list.
Check the official website of the lottery.
Download the app and check the results there.
You can also reach your lotto agent support service and ask an operator to tell you the latest winning numbers. You can reach it by email, phone or a life-chat. The support lady is always happy to help you!
***
There it is! Now you know how to buy lotto tickets online. Now cross your fingers and wait for a "big fish"!